People with messed up finances resort to bankruptcy as the last option to restore their financial health. Even though bankruptcy has the potential to wipe out most of the debt liabilities of a person, yet it falls short of power to grant complete freedom from all the debts to the petitioners.
Therefore, debtors contemplating to file bankruptcy must know about its future implications in their life.
Bankruptcy – its positive effects
Most of the time, both chapter 7 and 13 bankruptcies can help a debtor to shed off his unsecured debts like credit card bills, car loans, etc. However, one cannot get away with secured debts like educational loans, alimony, child support, etc. without paying them. Moreover, Chapter 7 is more rigid in granting debt exemptions than Chapter 13.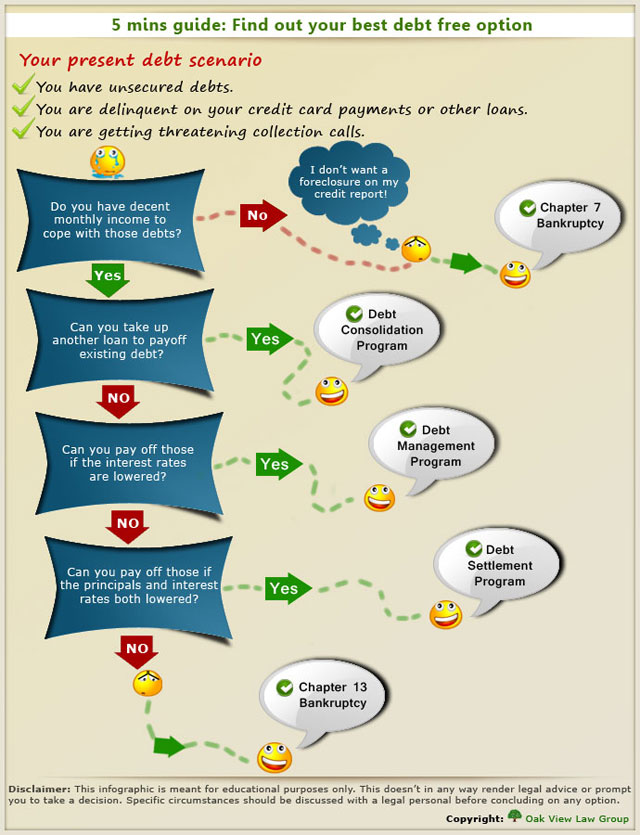 Here are some positive effects of bankruptcy:
People suffering due to grim monetary crisis, can find relief through bankruptcy. Some of the relief-giving qualities of bankruptcy are as follows:
Relief from debt collection – One of the most instantaneous positive effects of bankruptcy is that one will get relief from all sorts of harassing collection calls, violent collection tactics, and most importantly outrageous debt collectors, as soon as one files a bankruptcy petition. Moreover, foreclosure of a mortgage defaulter or repossession of car of a loan defaulter will automatically receive a stay order with virtue of the bankruptcy code.
Relief from liens – Liens are rights granted to the creditors to sell full or a part of the debtor's property to secure their loan money. In this case, bankruptcy can prevent a creditor from selling a debtor's property. However, a debtor has to take appropriate actions to prevent repossession or foreclosure of one's assets.
Relief from unsecured debts – Bankruptcy is an excellent cure to get rid of unsecured debts like credit card bills, barring secured credit cards. This is because bankruptcy usually discharges a person's unsecured debt liabilities which are not obtained against collateral. Secured loans permit a creditor to recover his loan money either through repossession or foreclosure.However, bankruptcy has been intended to primarily solve unsecured debt problems and not secured debts. In addition to the credit card debts, bankruptcy relinquishes a person's liabilities towards other unsecured debts as well.
As opposed to the above positive effects on a debtor's life, there are some negative effects of bankruptcy too.
Bankruptcy – its negative effects
Some of the shortcomings of bankruptcy are as follows:
No relief from student loan debts –In most of the bankruptcy cases, people do not get a discharge from student loan debt. A debtor can get his student loans discharged, only if he can prove the court that repaying the loan is practically impossible for him and that even if tries to make the payments, then it will put a lot of strain on his already limited financial resources.Moreover, the court would seek proofs to establish the financial difficulty of a debtor both under current situation and in the loan run, before granting him relief from his student loan debt.
No relief from non-dischargeable debts – There are some debts which either of the 2 bankruptcy, i.e., both Chapter 7 and Chapter 13, cannot discharge under any circumstances. For instance, debts which were not mentioned in the bankruptcy petition, or debts due to drunken driving that caused civilian casualty or personal injury are non-dischargeable under bankruptcy.Moreover, as per the bankruptcy code, a person charged of traffic rule violations or facing criminal charges cannot ask for exemptions through it. Therefore, under Chapter 7 bankruptcy these debts will stay with the person until and unless he makes the payments. However, under Chapter 13 bankruptcy, a debtor has to repay his debts as per the repayment schedule.
No relief from repossession – Bankruptcy can wipe out a debtor's financial liabilities but it cannot remove or discharge liens already slapped against a property or asset. Therefore, people may sometimes get rid of secured debts but they cannot avert their asset's repossession by the creditors.
Moreover, creditors can stop a bankruptcy court from discharging a debt if the debtor has been found to forge documents or cheat them while securing a loan or any other monetary service.
Marie Nelson is a financial expert associated with the Oak View Law Group. She mainly writes on topics based on debt, bankruptcy and financial planning. This article has been composed by her with the view to provide bankruptcy help to people who are in bad debt.For more information visit : http://www.ovlg.com/bankruptcy/